Connectivity Platform
User interface for total flexibility
Big data monitoring made easy
Nexiot's Connectivity Platform provides immediate access for both evaluation purposes and productive operations. Although it was designed with our smart sensors in mind, it proves to be the perfect front-end for connecting all types of device or node for visibility and control. This means that one platform fits all your IoT and M2M needs for simplicity and elegance.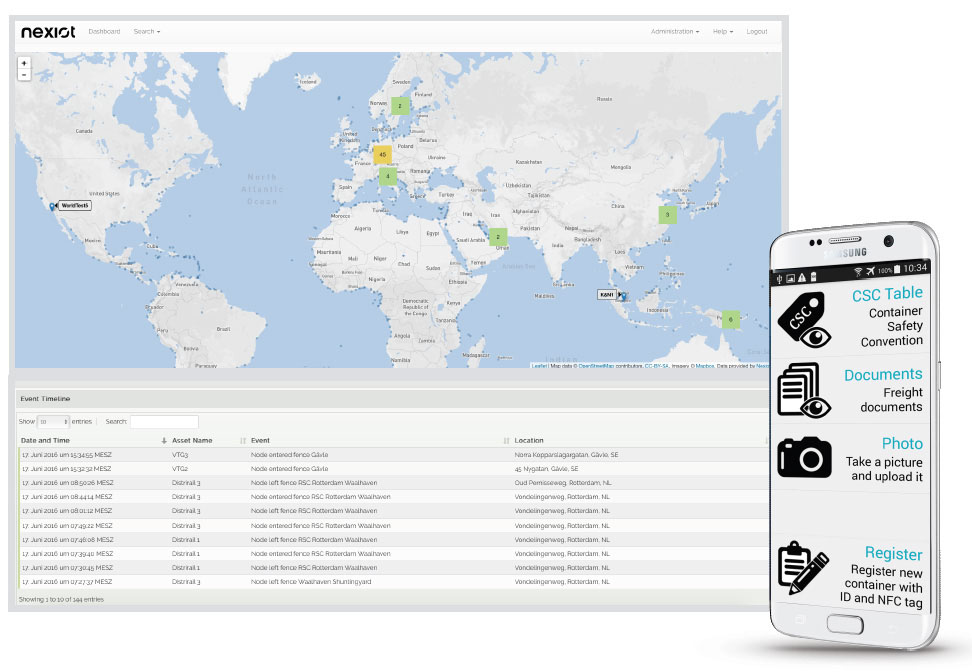 Dashboard
This page of our Connectivity Platform provides an overview of the current position of our customers smart sensors on a global scale. When many nodes are in a specific region they are clustered together which means they are displayed as a 'total number' for a snapshot on asset fleet geo-location. By clicking on a cluster, the individual smart sensors become visible and from here it's easy to review more details like asset meta data, module health and on-board documents.
Device details page
This page of our Connectivity Platform provides information on the modules status. This includes the asset metadata that's attached and E-documents that are linked to the asset, such as Waybills, Customs documents or Maintenance records. This is also the place where the millage and elevation for the asset can be found. Our objective is to offer our clients an interface where they can get a view on their fleet at any level of granularity, for efficient monitoring and immediate control.
Geo fences
This page allows users the chance to create custom geofences of any shape or size. Any relevant metadata can be attached to individual geofences or batches. For example, if an asset leaves a geofence unexpectedly between 2am and 6am, a notification can be sent directly to chosen security partners for immediate intervention. Notifications can be widely customised to accomplish a broad range of goals including sending sms, email or business process triggers.